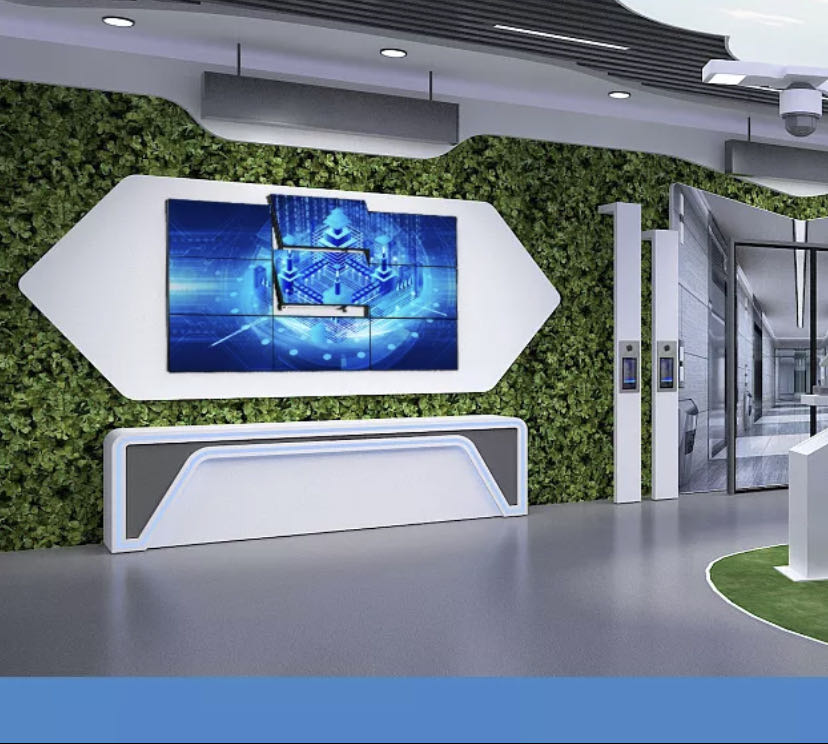 Horap was founded in 2010, focusing on trade in the early stage, and is now upgraded to an integrated manufacture and trade.We are a globally modern dynamic company providing high technology and effective products,Our main LCD monitor and LED display products, such as Industrial LCD monitor,High brightness LCD monitor, LCD & LED advertising player, digital signage,LCD video wall player, etc, they are applied to supermarkets, hotels, retail outlets, banks, metro station, leisure centers, schools, hospitals and more. Our competency lies in our innovative design, expert engineering, personalize customer service and competitive pricing. We work closely with our customers and invite them for sharing at every stage of the process covering solution formulation, technique support, installation backup and after sales tracking. We strive for excellence through progressing struggling stages with passion and innovation. All of our products come with 2years warranty .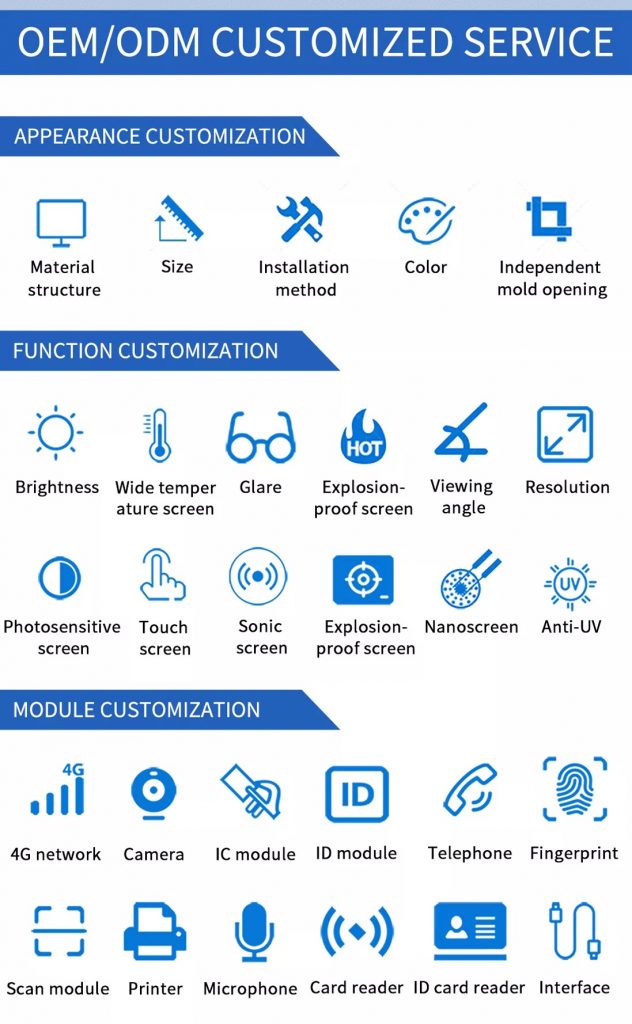 Industrail Monitors: 
1)Touch Monitors;2)High Bright Monitors ;3)Stretch Monitors; 4)Fireload Optimised Monitors; 5)Monitor Customisation.
Our current product portfolio includes monitors from 7″ to 85.6″ (17.78 to 217.43cm) screen diagonal with a variety of integrated controllers, from video cards to to Raspberry Pi based IoT solutions and PCs of different performance levels. All devices are also suitable for integration and can be supplemented with accessories such as touch, protective glass or mounting frame.
Advertising LED Displays:
1)Rental LED Display;2)Fine Pitch LED Display;3)Fixed LED Display;4)Creative LED Display;5)Transparent LED Display
HORAP is dedicated to provide professional visualization solutions and digital media solutions for multiple industries including broadcasting, transportation, education, utility, military, government, retailing, etc.
1. We guarantee that all our items are "as stated" in their descriptions. All products have been checked and packaged in good condition before dispatch. We strive for 100% customer satisfaction on every sale we complete.
2. Our products are directly manufactured from our own factory, there are no intermediate traders, no high markup, so we can offer highly reliable and affordable products for every client.
3. For any problems with our products and services, please contact us on time. We will respond to you within 24 hours.
Warranty Conditions
1. All products have a three-year warranty (one-year for free, and the last two-year will charge some maintenance fees) on basis of non- artificially damage.
2. If there are some problems with the goods, the buyer needs to provide related documents (Photos, video, etc). Please contact HORAP before you disassemble industrial monitors, panel PCs, or industrial mini PCs, etc. Please keep in mind that we won't be responsible for the quality of the goods if you disassemble any goods without our permission.
3. About the freight of repair, it is based on specific product damage reasons, If it's the quality problems, we will bear the freight.
4. For the RAM policy: We will fix it within one year for free. The buyers need to pay for the freight cost of returning, we will pay for the freight cost of sending back, but man-made damage is not included.
Industrial LCD Monitor Installation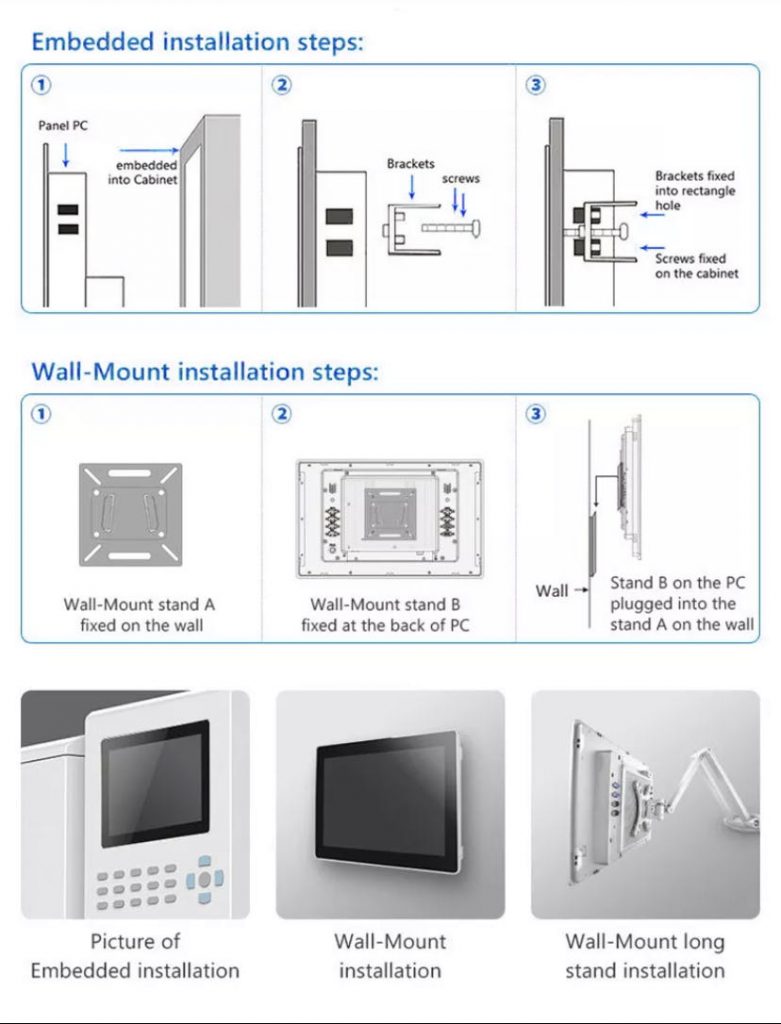 1. Embedded industrial monitor: Embedded industrial monitor, as the name implies, the device must be embedded in the customer's product, sometimes, it would be electrical cabinets, dashboards, or other surfaces of equipment. The customer's product must have a large and medium-sized control cabinet, except for the front monitor panel, the rest part of the monitor is embedded in the client's device, and the back is fixed with a hook. The large control cabinet needs to be installed according to the opening size in the embedded installation diagram of the industrial monitor manufacturer.
2. Wall-mounted industrial monitor: The wall-mounted industrial monitor can be hung, not only can be hung on the wall, but also can be installed on the customer's equipment, and the angle of the monitor can be adjusted according to customer requirements. With a suitable mounting arm, industrial monitors can be installed in any position for users to watch or operate, and are generally used for small, medium, and large equipment.
3. Rack-mounted industrial monitors: Generally speaking, rack-mounted industrial monitors are installed on a cabinet, such as a 19-inch cabinet, so its width is a standard 19 inch, the mounting holes are standard, and the size is basically all stable. Rack-mounted industrial monitors are generally used in large cabinets, such as telecommunications, power supplies, and large servers.
Advertising LED Display Wire Connection
Technical Training
1. Provide free technical training, including operation training and maintenance training in our factory.
2. After negotiation between the two parties, engineers can be sent to your company.
Instant messaging service
Customers can obtain technical support services through telephone, instant messaging tools, and remote assistance if they have any problems during the use of the display screen.
On-site installation guidance and commissioning training services
After the customer purchases the display screen, our company will provide customers with on-site installation guidance and commissioning training services for a fee. Our service engineers will provide customers with installation technical guidance, display commissioning and use and maintenance training.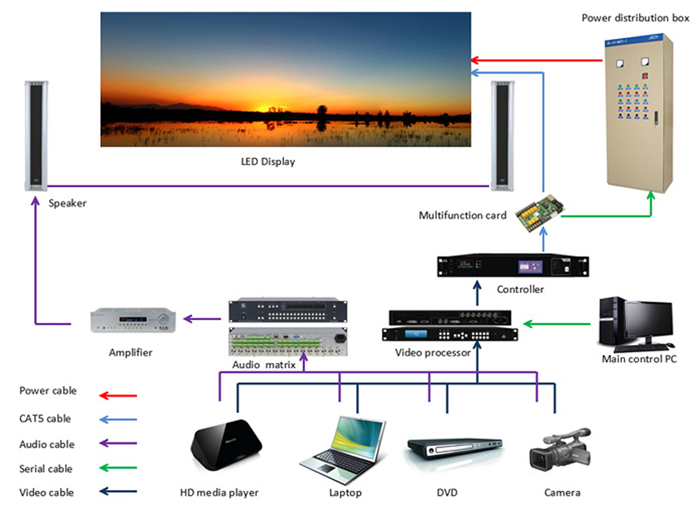 Q: Are you a trading company or factory?
1.A: We are a professional industrial industrial LCD monitor, outdoor LCD display and adveritisng LED display Established more than 10 years
2.Q: What's Minimum Order Quantity?
A: 1 pcs sample. welcome to test our sample first and then place bulk order.
3.Q: How long is your Lead Time?
A: Different quantity with different production time. Regular product with 7-10 days, customized with 15-25 days around.
4.Q: What's your Payment Terms?
A: TT , Western Union.
We also welcome to place Trade Assurance order on Alibaba
5Q: Do you give any discount?
A: we surely try our best to help you get the best price and good service at the same time.
6Q: Do you support OEM / ODM?
A: Yes, pls let us know your detailed requirements then we can provide you the solution.